Paediatric Chordoma Guide
National guidelines in the UK recommend that anyone with a bone cancer such as chordoma should be referred to a specialist centre for further assessment and treatment. Your child is likely to be referred to one of these centres – this may mean you and your child will have to travel some distance for treatment.
The centre at which your child will be treated will depend on the location of their chordoma.
The base of the skull and the bones of the neck (known as the cervical spine) are the most common locations of chordoma in children. Due to the proximity of these areas to the brain and spinal cord, these chordomas are generally treated in specialist neurosurgical units.
If a chordoma presents in the bones at the bottom of the spine (sacrum and coccyx regions, or tail bone) then the patient is generally treated in one of five specialist bone cancer centres in England, which are located in Birmingham, London, Newcastle, Oswestry and Oxford.
Patients in Wales and Northern Ireland can be treated in any of the UK specialist centres. Patients in Scotland will be treated in Glasgow, Edinburgh, Aberdeen, Dundee and Inverness.
If chordoma presents in the mobile spine – the middle section of the vertebral column – then it may be treated in a spinal or neurosurgical unit.
Words in bold are explained in a glossary.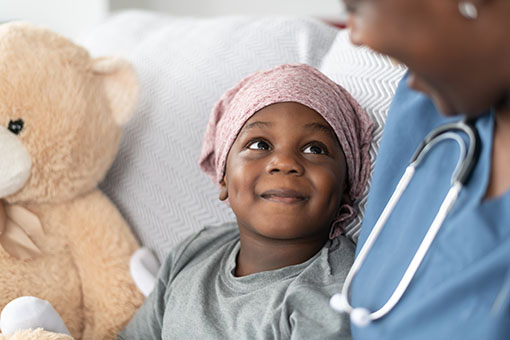 Chordoma affects very important and complex parts of the body such as the brainstem, spinal cord and important nerves and arteries. Treatment is therefore complicated and requires very specialised care provided by multiple types of doctors. Your child's care will be managed by a team of experts from a wide range of healthcare professions known as a multidisciplinary team (MDT).
The MDT may include:
a paediatric oncologist (cancer specialist)
a clinical oncologist (radiotherapy and chemotherapy specialist)
a paediatric surgeon
a pathologist
a radiologist
a nurse specialist
a physiotherapist
a pharmacist
a dietitian
The treatment of chordoma usually involves a combination of surgery and radiotherapy, dependent on the age of your child. More rarely, chemotherapy may also be involved.
Due to the rarity of chordoma, treatment options are usually tailored to the child's situation – no standardised treatment protocol exists. Chordoma in children can grow quickly, although this is not always the case. In order to try and prevent or prolong the time to relapse/recurrence, treatment of chordoma must be aggressive.
Your child's doctor and members of the MDT will discuss the options with you in depth. Lean into their knowledge, expertise and support – they are there for you.